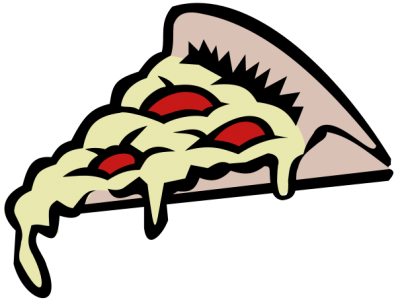 Mamacita says: Pizza was originally a quick and easy dinner for a busy Neopolitan housewife on baking day. She saved out some dough from her family's weekly bread and made a quick, nutritious dinner for her family by adding sauces, meats, vegetables, and cheeses. Homemade pizza is easy to make, and much better for your family than frozen or even restaurant pizza. When my son was in high school, he and his friends used to request my pizza and eat it as if they hadn't had and wouldn't be likely to get a good meal for a long time. I've been getting requests lately for my homemade pizza recipe, so here it is.  I hope your family enjoys it as much as mine did.
Dough:
1 teaspoon dry yeast (about half a square packet)
1/2 teaspoon sugar (must be real sugar – not artificial sweetener)
1/2 cup warm water
1 3/4 cups flour
1 teaspoon salt (don't leave it out)
1 tablespoon oil
In a large bowl, combine the yeast, sugar, and water. Mix well. Allow to stand for about 10 minutes. It should bubble and expand.
Add the other ingredients and mix well. Remove the dough to a well-floured board (I just use the kitchen table) and knead very hard for about 20 minutes. Add droplets of water or pinches of flour if you need to in order to make a smooth, slightly moist dough.
Put the dough back in the bowl, cover it, and set it in a warm place for about two hours.
After the dough has doubled in bulk, you're ready to make the pizza.
Sauce:
There are all kinds of pizza sauce recipes out there. I never had time to simmer any of them all day, so here is how I did it:
1 can tomato sauce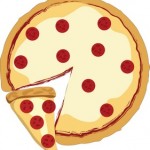 1 small can tomato paste
Oregano to taste
Toppings of your choice
Mozzarella cheese, shredded
Preheat your oven to 425.  Remove the dough from the bowl and knead again on the floured surface. Place the dough on a well-oiled pizza pan and start pushing it out in all directions. You'll think there isn't enough dough to cover your big pizza pan, but there always is. Remember, you want it to be thin, and it will rise a little bit more in the oven.
Cover the dough with tomato sauce and sprinkle with oregano. Place your toppings to your liking all over the tomato sauce. If you want a cheese pizza, you won't need any other toppings. (duh)
Bake on bottom oven rack for approximately 12 minutes. After 10 minutes, check regularly. When the edges of the pizza crust start to brown, remove from oven and spread the shredded cheese all over the pizza. Put dots of tomato paste all over the cheese. Return to oven for about 6 more minutes, or whenever all the cheese has melted.
Let the pizza "set up" for just a few minutes before slicing. Sprinkle with Parmesian if desired.
Enjoy.
P.S.  I've tried a ton of pizza dough recipes in my day, and this recipe is the easiest and the tastiest.  It's the only one I use now.  Once you get the hang of it, it's super simple.