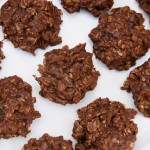 Mamacita says:  Hot weather must have arrived for good because I've had a kazillion (rough estimate) requests for the No-Bake Cookies recipe, so here is the one I use. Please bear in mind that I do not use actual measuring spoons for recipes I use a lot.
=======
No-Bake Cookies
Put the following in a large bowl and set aside:
3 tablespoons cocoa
3 cups quick-cook oats (regular oats work fine, too.  I like them better, in fact.)
Huge blob of peanut butter (my kids liked lots of peanut butter in the cookies) (use less according to your own taste; the recipe actually says 1/3 C.) (The more peanut butter you use, the more nutritious the cookies will be.)  (I'm fat and tend to rationalize a lot.)
2 teaspoons vanilla
Put the following in a medium-sized saucepan:
2 cups white sugar
1/2 cup milk
6 tablespoons butter or margarine
Bring to boil, stirring constantly. Once mixture begins to boil, cook one full minute (watch the clock hands; don't overcook!) and then remove and pour over mixture in the big bowl. Mix well.
Place on waxed paper by spoonfuls.
=======
I made these cookies a lot when my kids were little because A) they were really fast and easy and I didn't have to heat up the oven in the summertime, B) they contain oats, milk, and peanut butter, which by my mind constituted a nutritious breakfast, and C) I like them too.
If you let them boil past a minute, they get harder. (not an intentional innuendo.)
I got this cookie recipe out of a little hand-made cookbook of recipes the children had liked over the course of the year that Andy brought home from PreSchool when he was three years old. His teacher was constantly making and sending home helpful things like that; I still use many of them, and I really appreciated, and STILL appreciate, her thoughtfulness in going that extra mile. (I still put all the little ornaments with his picture on them, that she made for each of her tiny students every Christmas, on our tree.) I thanked her each time then, and here's still another 'thank you' twenty-some years after the fact. Thank you, Karen, for taking such good care of my little boy so long ago. I think of you every time I get down this little orange cookbook, held together with blue yarn, with his tiny handprint on the inside front cover, and full of easy, inexpensive, mostly nutritious, and tasty recipes. My son loved you, and this made it easier to drop him off every morning.
I ain't sentimental or anything.
Y'all enjoy those cookies now.