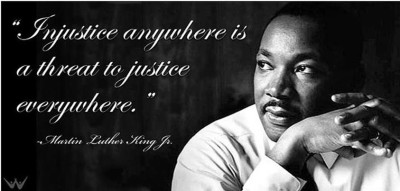 Mamacita says:  Why is Martin Luther King Day a holiday in most communities?  Why does Martin Luther King, Jr. merit a holiday?
This day is a holiday because intelligent, sensitive, educated people understand that today deserves respect because a man who dedicated his entire life to peaceful means of acquiring freedom for all people fully deserves to be recognized, and there are still, shamefully, communities that do not consider this of any importance. Making it a holiday forces people to look at his name on their calendar, if nothing else.
If he had advocated violence, it would have been different. Violence does not deserve recognition. If he had advocated "something for nothing," it would have been different. Bums do not deserve recognition.
But Dr. Martin Luther King advocated equal rights for all people, not just for whites and not just for blacks and not just for whites & blacks. He dedicated his life to gaining equal rights for EVERYONE.
And I can't help but listen to a speaker with such beautiful grammar. His grammar enhances his message.
May we all have this same dream.
Careful, grammatically-correct language and an almost poetic speaking style will always get my attention.  It's an assumption on my part, of course, but I associate good grammar with people who actually know what they're talking about.  In fact, I am convinced that this is so.
Martin Luther King, Jr. definitely knew what he was talking about, and he knew HOW to present it.
====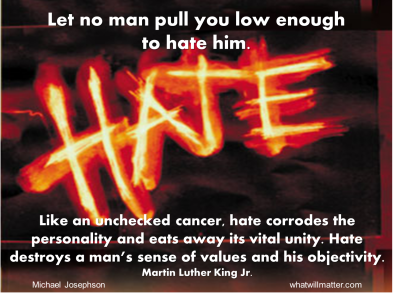 I have decided to stick with love. Hate is too great a burden to bear. — Martin Luther King, Jr.
The ultimate measure of a man is not where he stands in moments of comfort and convenience, but where he stands at times of challenge and controversy. — Martin Luther King, Jr.
Nothing in the world is more dangerous than sincere ignorance and conscientious stupidity. — Martin Luther King, Jr.
Our lives begin to end the day we become silent about things that matter. — Martin Luther King, Jr.
Darkness cannot drive out darkness; only light can do that. Hate cannot drive out hate; only love can do that. — Martin Luther King, Jr.
We must develop and maintain the capacity to forgive. He who is devoid of the power to forgive is devoid of the power to love. There is some good in the worst of us and some evil in the best of us. When we discover this, we are less prone to hate our enemies. — Martin Luther King, Jr.
The function of education is to teach one to think intensively and to think critically. Intelligence plus character – that is the goal of true education. — Martin Luther King, Jr.
A nation that continues year after year to spend more money on military defense than on programs of social uplift is approaching spiritual doom. — Martin Luther King, Jr.
He who passively accepts evil is as much involved in it as he who helps to perpetrate it. He who accepts evil without protesting against it is really cooperating with it. — Martin Luther King, Jr.
History will have to record that the greatest tragedy of this period of social transition was not the strident clamor of the bad people, but the appalling silence of the good people. — Martin Luther King, Jr.
Rarely do we find men who willingly engage in hard, solid thinking. There is an almost universal quest for easy answers and half-baked solutions. Nothing pains some people more than having to think. — Martin Luther King, Jr.