Mamacita says:  Dick Clark has died.
This will make little difference to most of you, save that your New Year's Eve will be hosted by someone else now. But to me, this is another one of so many things, lately, that I call "The end of my childhood."
When my sister and I were little, my parents used to roll up the rugs and dance to American Bandstand. Other Sister and I would sit on the couch, the buckles of our Mary Janes catching on the upholstery and pulling out long oval threads until we kicked and broke the thread. Our couches always had long threads waving about in the breeze from the two open, "screened-in" windows in summer or the breeze from the registers in winter. Our sofas, when OS and I were little, always looked like something that had been rescued from the sunken Titanic, infested with tendrilled sea creatures.
We loved watching Mom and Dad dance. Occasionally they had friends over, and all of them danced. We had records and a player at home, and a radio, but they didn't dance to those; they danced to American Bandstand. I overheard Mom say to a friend once, that "American Bandstand makes me feel like I'm at a party." I think it had that same effect on a lot of young people back then.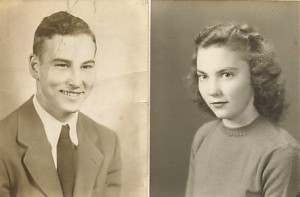 Mom and Dad would have been in their twenties during this period; two twenty-somethings with two little girls, and I know now that those two little girls were the reason Mom and Dad did their dancing at home, and not at a real dance.
Except that, watching them laugh and dance, whirl and twirl in our living room, rolled-up rugs leaning in one corner, rock and roll music blaring from our black and white TV, I realize now that these not-all-that-long-out-of-their-teens young parents WERE at a real dance. As for my sister and I, sitting on that couch, legs so short they were sticking straight out, picking upholstery threads with our shoe buckles and breaking those threads right and left with our wiggles, we were like old-time movie children watching the ball from between the bannisters.
It was as if those dancers were someone else, not Mommy and Daddy, someone from the TV dance, laughing and jiving like real people who weren't parents at all.
Like American Bandstand people. Magic people on the TV screen, only in living color ahead of its time, not black and white.
Dick Clark made that happen. It wasn't just on TV that he encouraged young people to dance, and exposed them to new music. He did those things for people in living rooms, too.
Our living room. Our southern Indiana living room, where the American Bandstand theme music caused rugs to be rolled up, Mommies and Daddies to kick off their shoes and rock the casbah, and little girls to turn a sofa into a mess of fringe.
Thank you, Dick Clark.  In my heart you'll always be young; you know, like you appeared to be even when you were old enough to be a grandfather, like the Picture of Dorian Gray.  To me, you're not a New Year's Eve host, or a game show host.  You're Dick Clark, of American Bandstand, teaching the world to cut loose and dance, and encouraging us to listen to new and different music.
I'd tell you to rest in peace, but I know you never wanted that kind of peace.  Crank it up to eleven, angels, Dick Clark is in the building now.