Mamacita says:  My home decor is like no other.  Ordinarily, my jack-o-lanterns sit on the front porch wearing out their welcome until the day before Thanksgiving, when I start to smell something, look down, and notice for the first time that they're actually still there, and then I have to scoop them up with a shovel because they're too far gone and mushy to pick up with my hands, not that I would want to actually DO that, because who wants to stick their fingers through mushy stringy pumpkin flesh and get that stuff all over them? I don't know how surgeons stand it.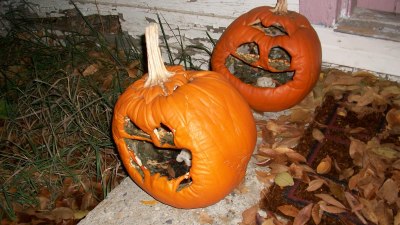 And I probably only notice them then, because I host the Thanksgiving reunion for my family, and they've all got eyes like eagles; no out-of-place ANYTHING escapes them. I'm not saying they wear white gloves to my house, but they might as well do it and give up the pretense. If they ever saw those moldy mushy pumpkins still sitting there in November, I'd never hear the end of it. Oh, okay, only one of them would notice. But it would still be too much for me.
Besides, leering jack-o-lanterns wouldn't go with my Christmas decorations.
I never mix my decorations. Putting up a new holiday is a good time to look around the house and make sure all remnants of the old holiday are gone.
Yeah, white gloves wouldn't work in my house.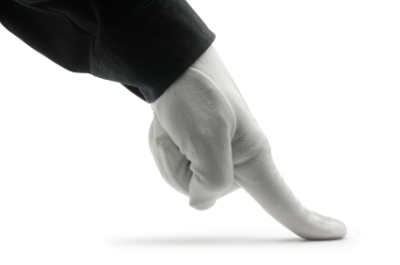 Of course, those gloves wouldn't stay white very long, in my house. And do you know why?
Because people LIVE in my house. And we leave our mark all over it. If Good Housekeeping ever sent a crew to my house, they'd pass out cold, because I don't think I've ever seen a house in a magazine that people actually lived in on a daily basis.
Think about it. Magazine shots never show a house with a stack of cereal bowls in the sink, or dirty socks under all the coffee tables, or dirty words written in the dust on all the surfaces not covered by piles of old magazines. I look at those pictures and think, has anyone ever really been comfortable in that house? Sure, all the colors match, and the cushions are all poofy, and there's no cat hair on anything, and the wall art is uniformly impersonal and represents nobody who actually lives in the house (where are the photographs of the family, for crying out loud?) but where is the personality of the people who sleep under that roof? An antique ten thousand dollar bed might be a thing of beauty, and the envy of the neighborhood, but to me, the thing of beauty would be the filthy little boy lying on top of the bedspread, wearing equally filthy SpongeBob pajamas and curled up next to the shedding cat.
You can always wash a child. You can always wash his pajamas. If absolutely necessary, you can even wash a cat.
And a ten-thousand-dollar bed that has to be coddled and never jumped on, or used as a pirate ship, isn't worth jack shit to me.
I do remember, though, that if you sleep on TOP of the bedspread, you don't have to make your bed the next morning.
Also, I seem to be the queen of the long, rambling sentence tonight. Is there a prize for that?